2022 Topps Update Series Hobby Box
2022 Topps Update Series Baseball Checklist Overview
The main draw with a flagship release is the base set. It's the foundation on which everything else is built. For Topps Baseball, there's also decades of history. Here, it's another 330 cards. The design is the same as the earlier pair of Topps Baseball sets but it's numbered separately so it's not necessarily "Series 3" but it certainly feels that way.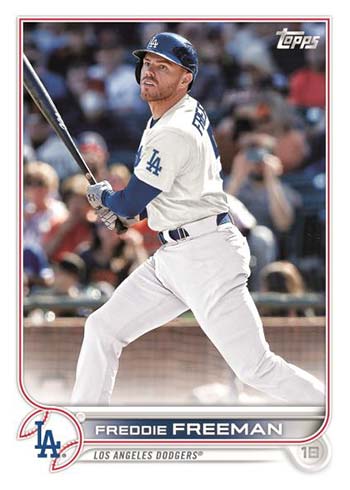 Traded veterans and rookies making their first MLB appearances over the initial couple of months from the season make up a big part of the checklist. Although there's no checklist, it's safe to expect the likes of Julio Rodriguez, Bobby Witt Jr., Seiya Suzuki and Spencer Torkelson getting their first flagship base cards.
That said, some big names aren't in the set including Adley Rutschman. Although he made his MLB debut on May 21, his 2022 Topps Now baseball card for the game has the "Call-Up" notation and not the rookie badge. This designation has been a clear indicator for who's being held back for the following year. A decision made largely by the MLBPA, 2022's cut-off date appears to be somewhere around May 20 as Nolan Gorman is also a "Call-Up" on his Topps Now cards.
2022 Topps Update Series Baseball Parallels
Parallels come in a variety of levels, some of which are exclusive to certain pack types:
Rainbow Foil – 1:10 packs
Gold Foil – 1:2 hobby jumbo packs
Gold – /2022
Green Foilboard – /499
Orange Foilboard – /299
Red Foilboard – /199
Vintage Stock – /99
Independence Day – /76
Black – /71 (hobby and hobby jumbo only)
Father's Day Powder Blue – /50
Mother's Day Hot Pink – /50
Memorial Day Camo – /25
Printing Plates – 1/1
Platinum – 1/1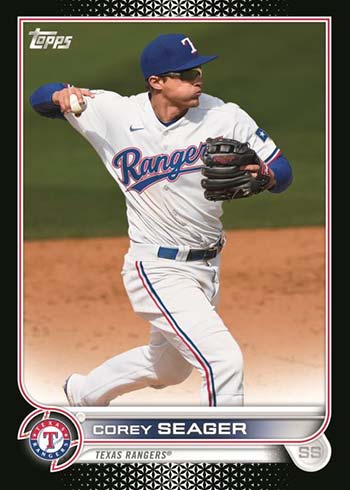 One hundred cards also have Clear versions done on acetate. Numbered to 10, these are exclusive to regular hobby packs.
Select cards have variations with different images. This come in both SP and SSP levels.
Inserts
Many of the inserts in 2022 Topps Update Series Baseball wrap up themes started back in Series 1.
This includes a new batch of 1987 Topps Baseball cards. Done with the 35-year-old woodgrain design, current players make for some new nostalgia. Additional parallels include Blue, Black (/299), Gold (/75), Red (/10), Platinum (1/1) and Wood (1/1). The design is also used for autographs, including some that are on-card. These have their own Black (/199), Gold (/50), Red (/10), and Platinum (1/1) parallels. Red are exclusive to hobby while Platinum are only in hobby and hobby jumbo.
Generation Now adds another 30 cards to bring its year-long total up to 90. These center on young MLB players.
Diamond Greats Die-Cuts also gets a third installment, this time another 25 cards to bring the insert's master set total up to 75 cards.
Update Additions
Until a couple of years ago, the Midsummer Classic was a part of the Topps Update base set. Now it's an insert. 2022 MLB All-Star Game cards feature 50 players from the year's game held at Dodgers Stadium in Los Angeles.
New to 2022 Topps Update Series Baseball is Paragons of the Postseason, which highlight past and present players and their prodigious playoff performances.
Topps Black Gold returns once again. The card maker rejuvenated the 1990s insert set in 2021 Topps Update using the original 1993 design as its basis. This time, it's a new design. Although it has hints of 1994 Topps, it's not the same as the 1994 Black Gold cards.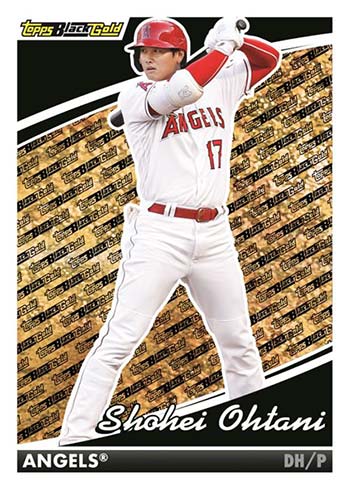 All five of these insert sets have a similar mix of parallels with Blue, Black (/299), Gold (/75), Red (/10) and Platinum (1/1). Select cards for all but the All-Star Game cards also have autographs numbered to 10 or fewer.
Sketch cards, all of which feature original artwork, are in the product but only in hobby and hobby jumbo packs.
Jumbo boxes also come with one of 25 different Oversized Rookie Reprint Box Loaders. Some of these also have autographs that are numbered to 10 and under.
2022 Topps Update Series Baseball Autographs and Memorabilia Cards
The All-Star Game figures prominently into many of the hits in 2022 Topps Update. All-Star Stitches has swatches from workout jerseys worn in conjunction with the Midsummer Classic. Parallels come in Silver (/50), Red (/10) and Gold (1/1).
Bringing signatures into the mix are All-Star Stitches Autographs (/25 or less). Red (/10) and Gold (1/1) parallels expand the checklist.
All-Star Stitches Dual and Triple have multiple players. These have no more than 25 copies each. All-Star Stitches Dual Autographs also max out at 25 copies each.
There are also All-Star Jumbo Patch cards (/5 or less) that have oversized swatches. One-of-one Gold parallels are also randomly inserted in packs. Autographed versions have 10 copies or fewer with additional Red (/5 or less) and Gold (1/1) parallels.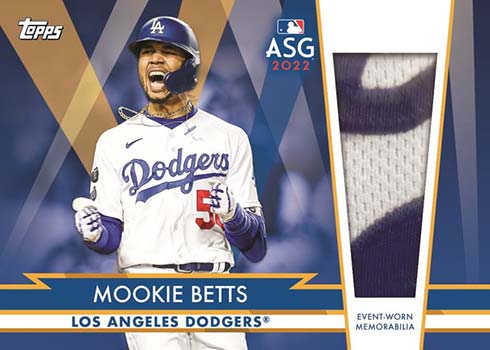 Baseball Stars Autographs return with more vets, rookies and retired players. Besides base versions, these have Black (/199), Gold (/50), Red (/25) and Platinum (1/1) parallels. Baseball Stars Dual Autographs are scarce with five copies or fewer for each.
Major League Materials are also back. These also have Black (/199), Gold (/50), Red (/25) and Platinum (1/1) versions. Major League Materials Autographs have no more than 50 copies.
Topps Reverence Autograph Patch cards are only available in hobby and hobby jumbo packs. Base versions have 10 copies while Red and Platinum parallels are numbered to 5 and 1 respectively.
One-of-one Cut Signatures rank among the scarcest cards in 2022 Topps Update Series Baseball.
Manufactured Relics
Special Event Patch cards are manufactured relics that are exclusive to hobby and retail. These have commemorative patches done to look like those worn on uniforms for special games and days. Parallels include Black (/199), Gold (/50), Red (/10) and Platinum (1/1). Autographs have 10 copies or less.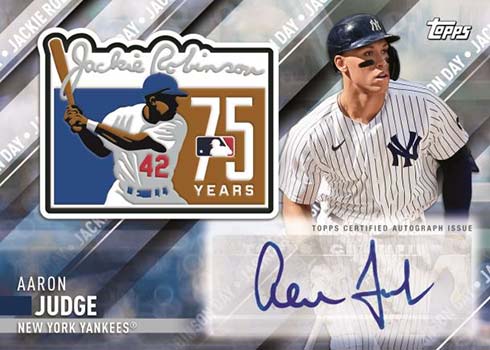 Retail value blaster boxes each have a Commemorative Batting Helmet patch card.