2021 Panini Obsidian Football
2021 Panini Obsidian Football takes the chromium concept and casts it against a dark backdrop. The design switch makes it standout in a field that also includes Prizm, Spectra, Select and more. Obsidian is also more the high-end side with four total hits in every seven-card hobby box.
2021 Panini Obsidian Football Checklist Overview
Things start with a 200-card base set. One half is a mix of veteran and retired stars. Rookies make up the remainder of the checklist. It might not seem like a large set, but with only one standard base card per box, landing a particular single isn't easy.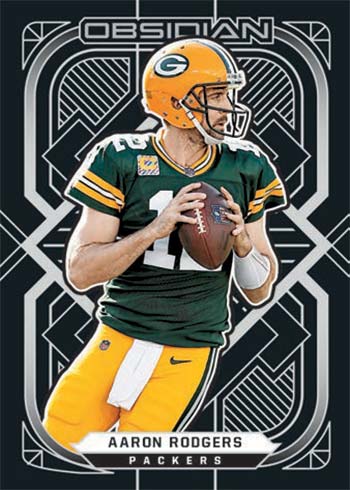 The big design feature in Obsidian is the black layout. It's a major contrast from the silver look of other opti-chrome releases.
This year, there are distinct patterns running through the background instead of abstract photo highlights like past years. This is where parallels come into play. These lines fill in with different colors for Electric Etch versions. Colors include:
Contra
Purple – /100
Orange – /75
Green – /50
Yellow – /25
Red – /10
Blue Finite – 1/1
The one exception is Gold Flood. Numbered to 10, these have a go for gold to replace the black.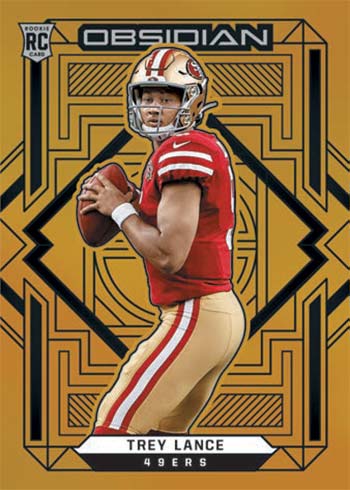 Select cards also have Base Autographs (/25) and Rookie Autographs (/150). Additional Electri Etch parallels for Rookie Autographs come in Orange (/75), Green (/50), Yellow (/25), Red (/10) and Blue Finite (1/1).
Autographs, Memorabilia Cards and Other Inserts
First-year players can be found in a couple of places with signed memorabilia cards. Rookie Jersey Autographs have slightly larger swatches. For Rookie Jersey Ink, cards have two pieces of gear. Both have additional Electric Etch Orange (/99 or less), Green (/50 or less), Yellow (/25 or less), Red (/10 or less) and Blue Finite (1/1) versions.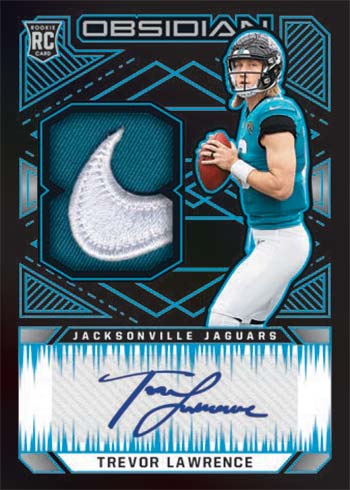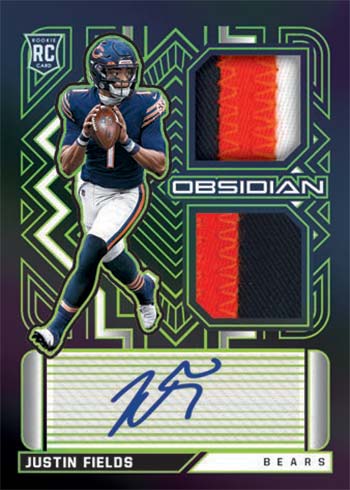 Matrix Material Autos brings the signature-memorabilia combination to veteran players. Parallels on these, which carry the Electric Etch theme, include Orange (/75 or less), Green (/50 or less), Yellow (/25 or less), Red (/10 or less) and Blue Finite (1/1).
Lightning Strike has autographs from more than 30 players including Joe Montana, Josh Allen and Derrick Henry.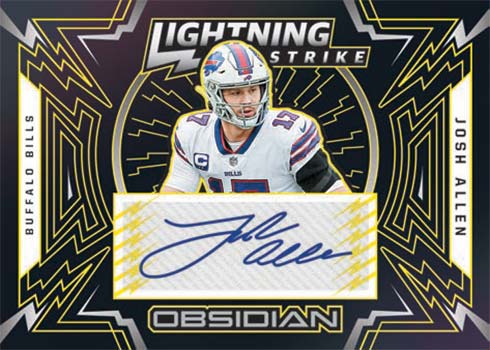 Trifecta Material, which have three swatches, are among Obsidian's memorabilia inserts.
Die-cut inserts have been a part of the line for several years now. Tunnel Vision, Eclipse and Vitreous all return. For Tunnel Vision, Electric Etch parallels can be found in Contra, Orange (/35), Green (/25), Yellow (/10), Red (/5) and Blue Finite (1/1).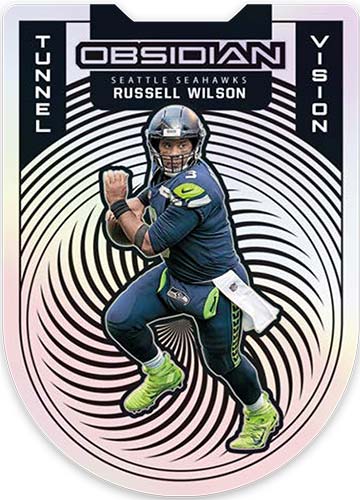 Color Blast Black is back for another year. Once again, these take the popular Color Blast inserts found in Prizm and switch the usual white background out for the much darker black.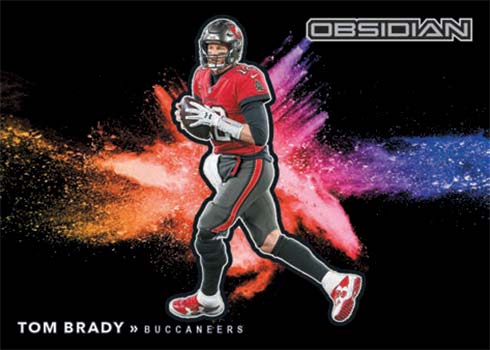 2021 Panini Obsidian Football cards at a glance:
Cards per pack: Hobby – 7
Packs per box: Hobby – 1
Boxes per case: Hobby – 12
Set size: 200 cards
Release date (subject to change): June 10, 2022
What to expect in a hobby box:
Autographs or Memorabilia Cards – 4 Total
Inserts or Parallels – 2 Total
Base Cards – 1