2021 Donruss Optic Football Hobby Box
2021 Donruss Optic Football continues with the brand's tradition of chroming out the main Donruss line. With that there are some tweaks and additions, but the upgrade on the flagship foundation is readily apparent throughout the checklist.
Hobby boxes promise one autograph as well as four inserts and 10 parallels, eight of which are serial numbered.
2021 Donruss Optic Football Checklist Overview
The base set has 300 total cards and is split into two sections. Veterans take up two-thirds of the set. The remaining 100 cards are Rated Rookies, taking a fairly deep dive into the season's first-year class.
As usual, Optic has a lot of parallels. Those available in hobby packs include:
Holo
Aqua – /299
Orange – /199
Blue – /179
Silver Circles – /125
Red – /99
Pink Velocity – /79
Purple – /50
Lime Green – /35
Black Pandora – /25
Ice – /15
Gold – /10
Green – /5
Gold Vinyl – 1/1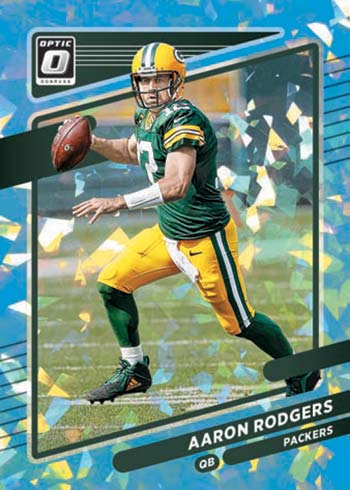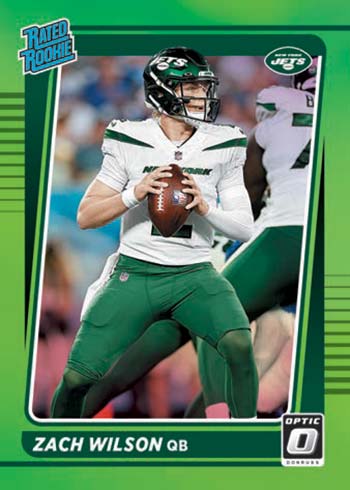 Autographs and Inserts
Rated Rookies RPS Autographs come with on-card signatures and print runs of no more than 150 copies. Not only is the design similar to the base set, but so is the lineup of hobby parallels:
Holo – /125 or less
Blue – /99 or less
Red – /75 or less
Pink Velocity – /50 or less
Purple – /35 or less
Black Pandora – /25 or less
Ice – /15 or less
Gold – /10 or less
Green – /5 or less
Gold Vinyl – 1/1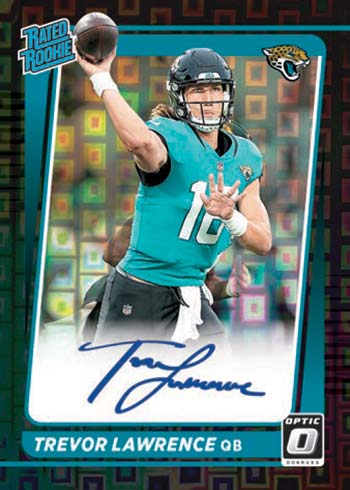 Rookie Patch Autographs (/25 or less) add a memorabilia element to the product. Besides the low print runs for the base versions, one-of-one Gold Vinyl are the lone parallels.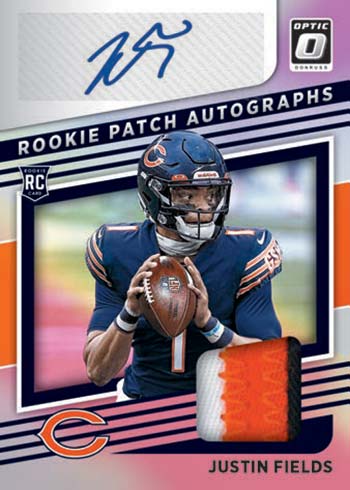 It's the same story for Legendary Patch Autographs (/25 or less), which focus on all-time greats.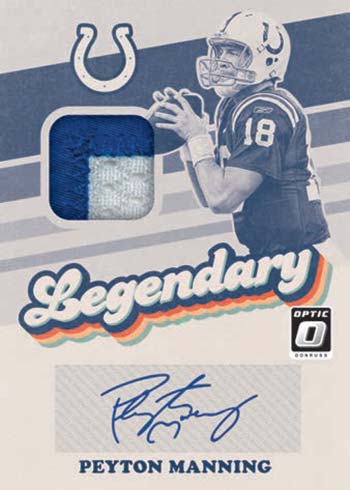 Among the insert highlights is Downtown, which, according to Panini, are case hits. These continue with the juxtaposition of a star player against a cartoon backdrop of local landmarks and features that give their city flavor. Parallels are available in three levels: Black Pandora (/25), Gold (/10) and Gold Vinyl (1/1).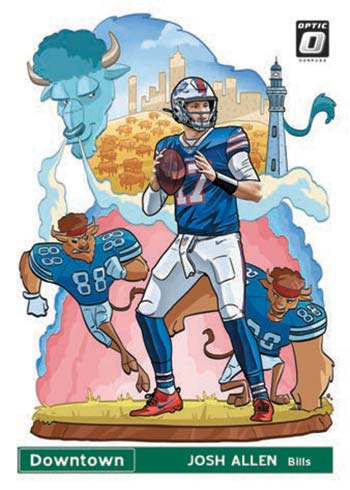 Mythical is another tough set on the checklist.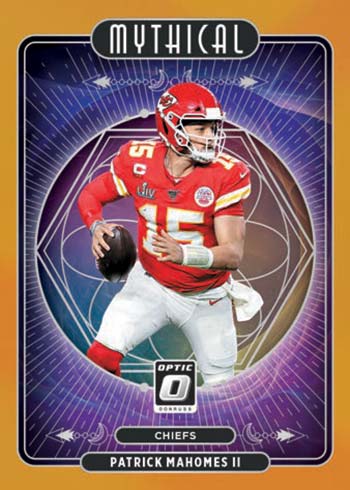 New insert sets in 2021 Donruss Optic Football include Gifted Rookies, Globall, Legendary Logos and Rising Sons.